I was tagged by The paper Dragon to do this tag, many thanks, I'm a huge fan of the series and am really looking forward to doing the tag. 🙂
Part 1: Book Questions
"We do not sow"- A book you would not be willing to invest in:
Twilight, eugh, just, No! Yuck, pure and utter drivel! (sorry Twilight fans).
"Fire and blood"- A book that produced strong emotions in you:
Fool's Errand (Tawny Man book 1) by Robin Hobb. There's a part in here that is one of the most heartfelt, emotive and poignant passages ever written.
"Winter is coming"- Your favourite winter read:
I'm not going to pick a singular book, instead I'm opting for a series as winter is a season and I'm saying The Malazan Book of the Fallen series by Steven Erikson.
"Family. Duty. Honour."- A book about strong family ties:
Assassin's Apprentice (Farseer Trilogy book 1) by Robin Hobb. Sorry Nick V Reys, I'm stealing your answer as I've been trying to think of a better one and I can't as Assassin's Apprentice and the Farseer Trilogy on a whole just ooze family!
"Growing strong"- A book you had low expectations of but that grew on you:
Swan Song by Robert McCammon, alot of people said it was a poor imitation of The Stand by Stephen King and while there are similarities it is an amazing read in it's own right, I didn't expect much from it but it blew me away with how good it was.
"Ours is the fury"- A book that made you furious:
A Feast for Crows (A Song of Ice and Fire book 4) by GRRM, after an amazing first three books in the series this was an utter let down.
"Unbowed. Unbent.Unbroken."- A book you have unwavering devotion to:
December Park by Ronald Malfi, an amazing coming of age book set in the early 90's, I loved this book which surprised me but now it's one of my favourite ever reads.
"A Lannister always pays his debts"- A book you feel indebted to:
A Game of Thrones (A Song of Ice and Fire book 1) by GRRM, sad to say but it's the book that got me into fantasy. 
Part 2: Fan Theories
Who do you want to win Game of Thrones?
I don't think there'll be a winner per se more survivor's and I'm rooting for Tyrion, he's awesome! I have high hopes that the little guy will see it through to the end!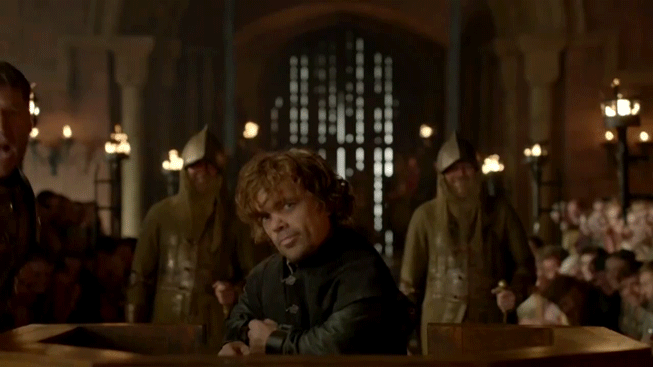 Who do you think will make it to the end and who do you think will die?
Tyrion, Jamie, Dany, Arya, Melisandre, Bran as a Warg and Rickon will make it to the end and everyone else will die, see ya Cersei, Sansa, Little Finger, Stannis, Margaery and Tommen and bye bye and good riddance to The Frey's and The Bolton's you shall reap it!
Part 3: My Game of Thrones
Would you win or die?
Win! Hey, I've got to be optimistic and I'm going with the fact that I'm a bad ass with a heart and I would win!
What house are you?
I took this quiz to tell me my house: GoT House quiz.
And I am a………………..Stark!
This is what the quiz said about me:
The good news is, you're a thoroughly decent human being. The bad news is, that is a very dangerous thing to be in Westeros. You are loyal, dutiful, and generally ill at ease among the toxic politics of King's Landing. Either buckle down and learn to play the game, or get the hell out into more hospitable environments. The North may be freezing, but it also has notably less backstabbing which, bless your little heart, is not exactly your strong suit.
I tag anyone who reads this who wants to take part. 🙂