The Friday Face-Off is a new meme created by Books by Proxy, where the idea is to compare the UK and US covers of a book with each week  being a certain theme, this week's theme is a cover which features the word 'blade' in it's title.
For the theme this week I have chosen Traitor's Blade (Greatcoats book 1) by Sebastien de Castell and instead of just choosing the UK and US covers, I have treated you all to a smorgasbord of choices by picking the Canadian and French covers to!
UK Cover:
US Cover: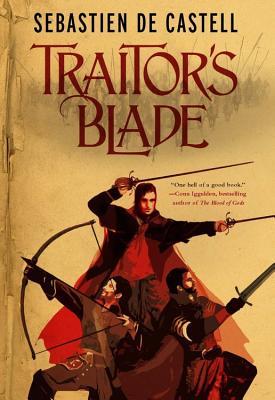 Canadian Cover:
French Cover:
The Winner: UK.
Out of the four covers this week my least favourite has to be the US one as I really don't like the stylised depiction of Falcio, Kest and Brasti but I think all three of the other covers each have something good going for them and are all what couldbe deemed 'quality' covers. I really like the depiction of Falcio and the colour palette on the French cover. The Canadian is rocking a UK edition Joe Abercrombie book style cover just not quite upto his standards. Whilst the UK is simple looking but at the same time also very fetching and stands out with the simple white background and the figure and font in the foreground done in a bright and vibrant colour.
So it was a decision between the UK and France for me and in the end I decided to remain patriotic to the UK this week and choose my home country as the winner…and hey….as anyone reading this post from the UK knows, it's nice for us to occasionally win something! 🙂